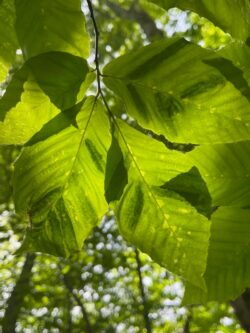 There is a new disease killing beech trees in our area, beech leaf disease (BLD). Unlike most diseases of trees that are caused by a fungus. BLD is caused by a foliar feeding nematode Litylenchus crenatae mccannii. Both European beech (Fagus sylvatica) and American beeches (Fagus grandifolia) may be affected. The disease was first discovered in the United States in Ohio 2012. The first detection in Massachusetts was observed in 2020. The disease seems to be spreading quite rapidly, but it is currently unknown how the nematode is being vectored. As of September 2021, officials have reported the disease in the following towns:
Bristol county: Berkley, Dartmouth, Fall River, New Bedford, Norton, Westport
Essex county: Gloucester, Hamilton
Middlesex county: Framingham, Lexington
Norfolk county: Brookline, Norfolk, Quincy
Plymouth county: Kingston, Lakeville, Plymouth, Plympton, Rochester
Worcester county: Paxton, Worcester
Just this spring, we have also observed BLD in Duxbury, Easton, Hanover, Halifax, Hingham, Milton, and Norwell. We will continue to monitor beech trees throughout eastern Massachusetts where we are currently treating to be on the lookout for this disease. The disease can be easily identified by looking at backlit leaves. Diseased leaves will have darkened bands in between the leaf veins. As the disease progresses leaves may become more crinkled and yellowed. Trees can die in 2-7 years, with younger trees dying more quickly.
Unfortunately, there is a lot we are still learning to manage this disease however treatment with Phosphite type fungicides may help to encourage an increase in plant defenses. As we learn more and recommendations change, we will adapt as well. For mor information you can visit the state website https://www.mass.gov/guides/beech-leaf-disease-in-massachusetts